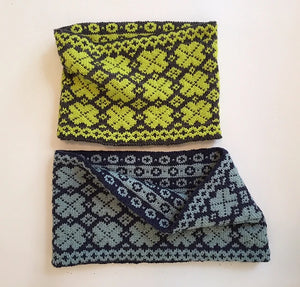 This cozy reversible cowl pairs a classic design with a modern motif and provides the backdrop to focus on intermediate stranded knitting skills. The stranded cowl (also known as Fair Isle knitting) features lessons on hand positioning, yarn dominance, managing floats and a surprising take on an old favorite. We'll also cover a provisional cast on an Kitchener stitch!
Nancy has broken this project down into 2 classes to be held on Tuesday evenings from 5-7 pm.
November 21 & December 19
The cowl is available in two sizes to suit your style.  Yarn quantities will vary according to size.  
Yarn-  The MC calls for a sport weight yarn, we recommend Reminisce from The Farmer's Daughter Fibers. For the CC try Dyed in the Wool from Spincycle Yarns- it will gradually change colors on it's own for a stunning design.
You'll need size 5 24" circular needle. Pattern is included in the class.