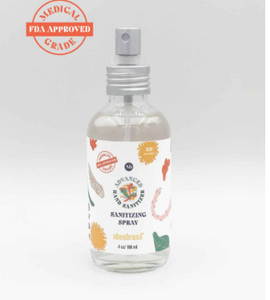 Use it anywhere, on anything. This FDA approved, medical-grade sanitizing spray is  designed to keep your hands and surfaces clean and germ-free. It's all natural, cruelty-free and comes in a glass bottle – so
you keep clean without compromising your values.
I used to buy my hand sanitizer for $2- why have prices gone up so much? Short answer: Incredibly high demand. Furthermore, the price of both alcohol and small bottles has increased 4x and is expected to stay that way for the foreseeable future. Shea Brand is doing everything in their power to help keep the prices as low as possible and is continually negotiating with their partners to lower costs.