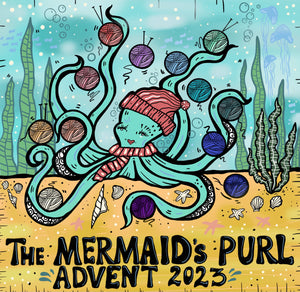 The Mermaid's Purl Advent comes as a box filled with little packages that are labeled with numbers that correspond to the day of December that you are to open it. What's in these sweet little packages? Well, its a surprise!

Here's what you'll find: 
 13 mini skeins of our Sea Sock yarn. Sea Sock is 80/20 superwash merino/nylon blend with 80 yards on each 20 gram skein. This year we are super excited to include our house dyed minis as well as a handful of minis from special guest indy dyers. 
We have an amazing team of collaborators!
 Chelsea Yarns, Melanated Boho Bae, The Farmer's Daughter Fibers and CAKEWool Co are all dying minis.
This year we are switching things up a bit! We are working closely with these dyers to create a cohesive FADE across the 13 mini skeins. This means each skein will give you hints about what the next color will look like.  All of the color ways are inspired by the ocean!
The rest of the packages will be filled with a menagerie of knitting haberdashery and self care items that any crafter would be thrilled to open. We are also collaborating with small batch makers including Kenyarn and Kartrinkles to create limited edition goodies that you'll only find in our box!
Included is a simple pattern that goes with these minis so you can knit through them as you open.
A menagerie of knitting haberdashery and self care items that any crafter would enjoy
You'll be opening a surprise every day, which is a cathartic practice through the busy month leading up to the holidays.
As usual, this Advent Calendar is inspired by the ocean!
There are 2 different options -choose between 12 or 25 days. Both options hold the EXACT SAME contents, the only difference is the number of packages. 

Once preorders close, you will not be able to order!  We'll be too busy assembling these treasures!
 Advents will be ready to ship or pickup mid November, so you can start opening packages on the first of December.  We are beyond excited about this and look forward to brightening up your holiday season.