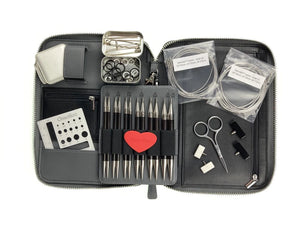 Sold out for now but preorders are opening soon!!!

ChiaoGoo's newest Special Edition interchangeable set, 

Forté, includes tips that are an elegant combination of 

sleek, stainless steel and luxurious, African Blackwood.

The set boasts their new SWIV360 interchangeable 

cables. Silver in color, the cables have the same properties as the much-loved red and blue TWIST cables PLUS an added swivel feature! 
It includes a double-sided, removable needle board that firmly houses all tips; elastic that securely holds but gives easy access to accessories; and four pockets to hold the rest of your knitting supplies including a spot for your pattern or notes.
The Forté set includes 14 pairs of 5" (13 cm) tips US2 – 15 (2.75 – 10 mm)
The set comes with six memory-free SWIV360 cables, steel scissors, a measuring tape, end stoppers, stitch markers, darning needles, a swatch/needle gauge and much more! 

Plus, all Forté parts and pieces have 

[S] or [L] size joins so they are switchable with all of ChiaoGoo's 

other similarly coded interchangeable parts.