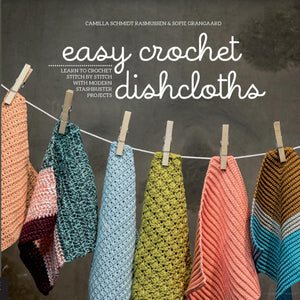 Learn to crochet stitch by stitch with modern, stashbuster projects.  
Easy Crochet Discloths o
ffers elevent designs that are a great way to learn how to crochet.  Try a new yarn or use some of your stash to create a beautiful supply of colorful, environmentally friendly, reusable cloths
for cleaning, display, and gifting.
The "Crochet School" section presents the featured crochet stitches step-by-step to help beginners get started and to refresh more experienced crocheters. With designs ranging from very simple to more challenging, crocheters at all skill levels will find designs they'll love to make. Project instructions are provided in both words and international crochet symbols.