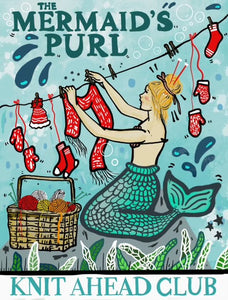 Do you find yourself scrambling to complete hand-made gifts on time? Does the holiday gift crunch stress you out? We have the solution!
Get a head start on your handknit gifts this year. Each much we assemble kits for a wonderfully giftable project. All patterns are easy to follow and quick to complete. We use a variety of yarns and needle sizes and play with color and texture so you are never bored! Projects range from hats, headbands, mittens, fingerless gloves, cowls, scarves, leg warmers hoe accessories and more – each month is a surprise!
What are the benefits of participating in the Knit Ahead Club?
-You'll have a stockpile of gifts ready to give. Whether for birthdays or the holidays, you will never feel the pressure to finish.
-All of the projects are brand new! We debut the yarn and pattern combinations to our club, so members are first to see and get first choice on colors.
-At $30 per kit, club members save anywhere from 15-30% off the retail price of the materials used
-Find a 15% discount on any additional purchases you may need when we send your kit (this includes purchases of additional yarn, needles, accessories, pompoms, and patterns).
-A private Facebook group where everyone asks questions and shares progress.

How does the Knit Ahead Club work?
The first Tuesday of the month you'll receive an email with the needle size required for the project.  This gives you time to check and see what you need.  We follow up on Thursday with an email with all the information about the project and color options. You then follow the link to select your kit and purchase. You can ship or pickup!

The Knit Ahead Club is $35 to join for the year which  runs from March to December.
Our first project will be announced on March 2rd, so don't waste any time registering.