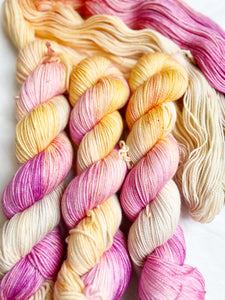 We are so excited to welcome Aimee Gille and created a limited edition colorway based on her two books. Shades of magenta, gold and grey blend together for a one of a kind combination.
Available on our 2 favorite bases:
Cashmere Sea Sock
80% Superwash Merino / 10% Cashmere / 10% Nylon
400 yards in each 100 gram skein
Fingering weight
Cashmere Sea Sock DK

80% Superwash Merino/10% Cashmere/ 10%Nylon
231 yards / 100 gram skein
size 4-6 needles
Preorders close Sunday, May 14! Yarn will be available to pickup or ship May 24.